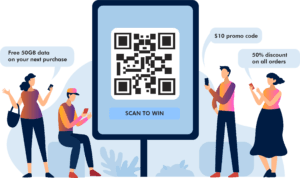 MysteryQR is redefining & re-engaging offline-online mobile advertising campaigns by using QR Code. It's a gamified way to make the marketing campaigns go viral. Upon scanning the QR, the user gets a mystery promo. Merchants use the MysteryQR Code for multiple reasons that can get them extra advantage over others. It could be to drive engagement, build the database, avoid the challenges to execute complex digital marketing strategies, and leverage on their existing ecosystem.
Let's take an example of Domino's. Today, when you order Domino's, you receive a flyer that has multiple promos on it but the large numbers of recipients do not act or react to it. Instead of spending a crazy amount of time, money, and the effort to roll out the next campaign; just place a MysteryQR on the delivery box with the text "Scan To Win".
Now when user A scans the Mystery QR Code, he/she receives promo of Buy 1 Free 1
User B scans the same Mystery QR Code, he/she receives $5 off the next transaction
User C scans the same Mystery QR Code, he/she receives a free choco lava cake promo on the next transaction
QR codes are starting to pick up steam among the growing smartphone-browsing crowd – a statistic that has marketers brimming with creative ideas and promotions. Companies are finding innovative and unique ways to not only get you to scan their code, but boost its brand awareness in the process. And now, companies can gamify their marketing campaigns, bring down the cost, improve ROI, track data, and build CRM strategies.
We can highlight all the great opportunities you could get from using MysteryQR Codes on your existing platforms, but the best way to learn is through examples. Below are a few snippets from fictional brands to inspire you:-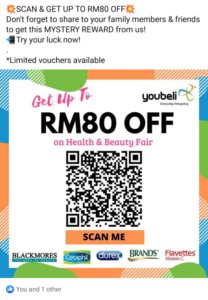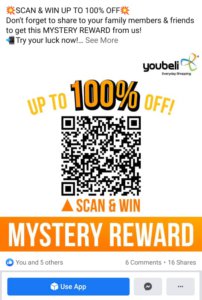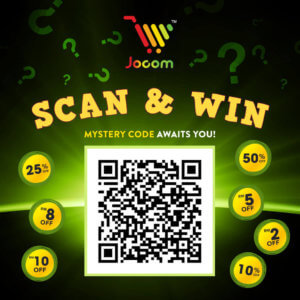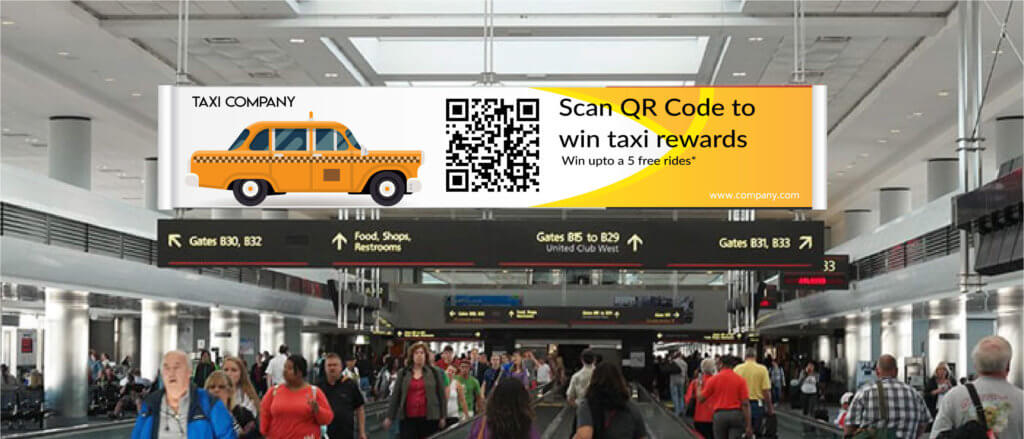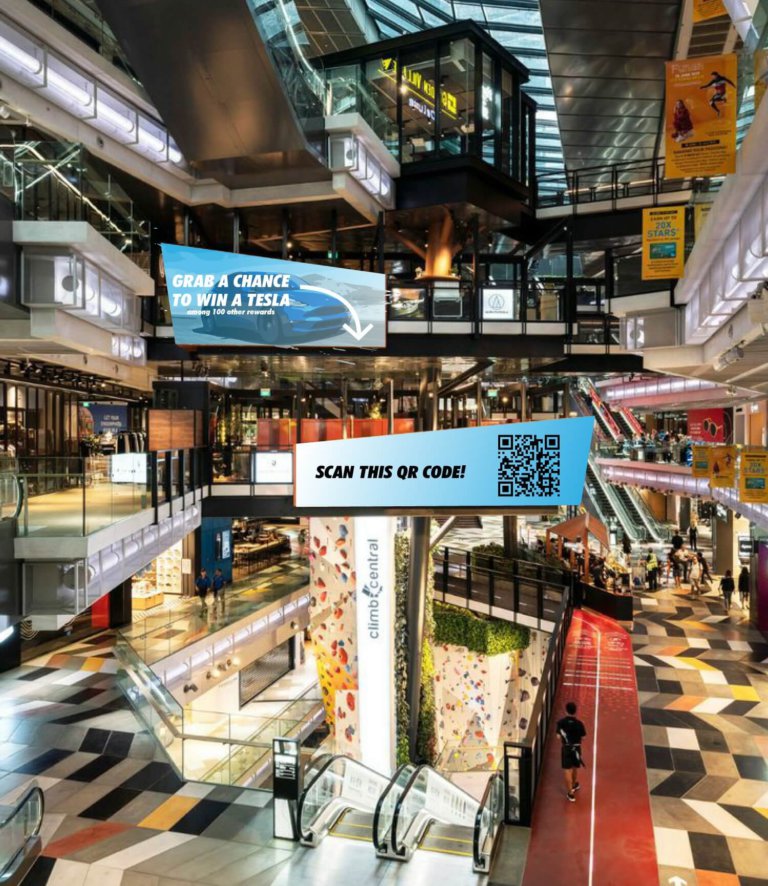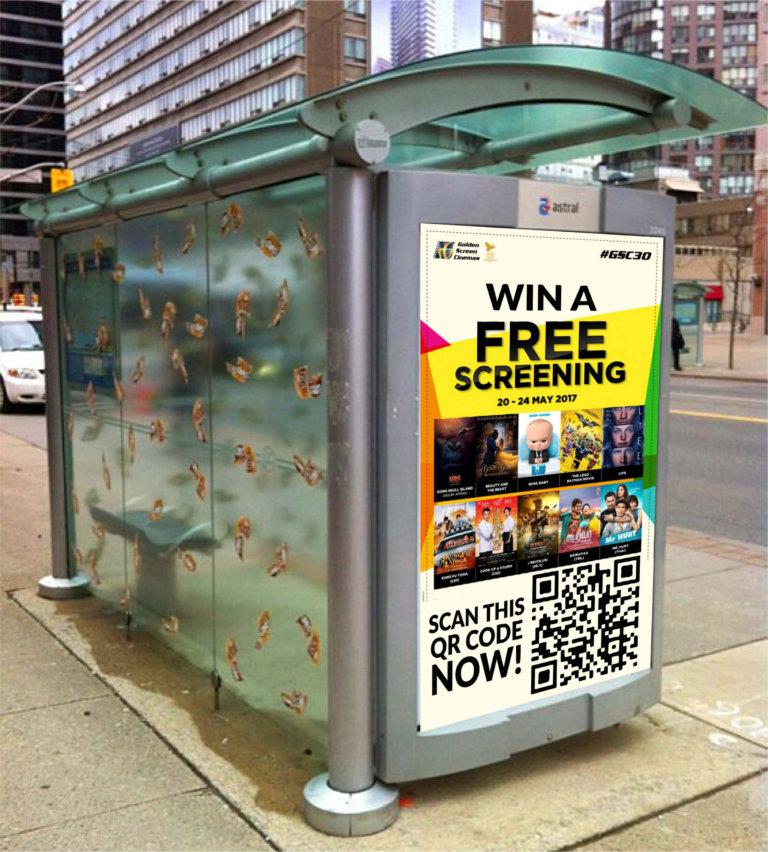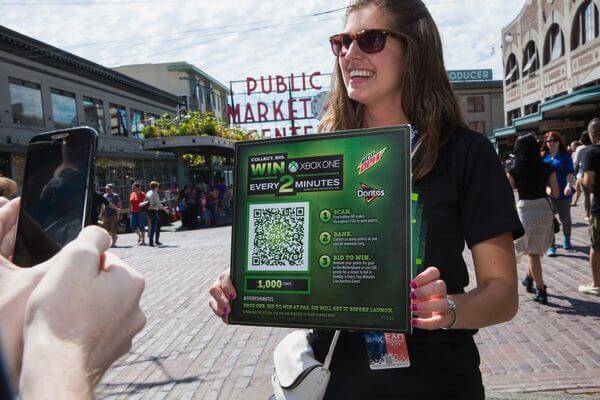 Printed Marketing Material
 Business and Loyalty Cards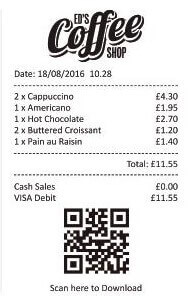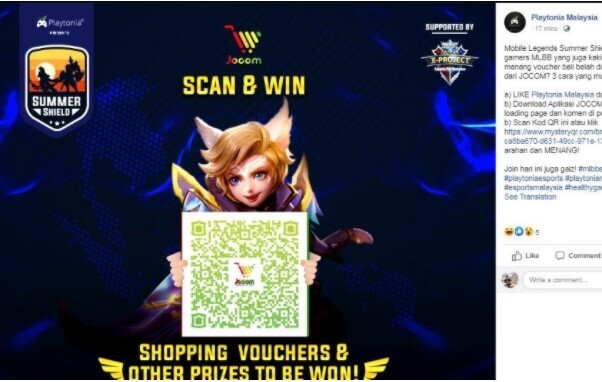 Every business owner, be it SMEs or big boys, runs multiple campaigns at any given point in time. MysteryQR helps business owners to amplify their marketing promotions by expanding their reach to the masses. Running a campaign using MysteryQR Code helps you in multiple ways:
Promoting multiple campaigns – Merchants, SMEs, or business owners can collate all of their promos into one QR code
Aggressive promotions – We all quite often see merchants doing promotions like "Get 20% off". Honestly, they do not make an impact anymore as every other merchant is doing the same. With MysteryQR, merchants can do aggressive and impactful campaigns like "Get up to 100% off"
Building database – Merchants can build a database at the fraction of a cost and such can data can be used from various angles to further, monetize it.
Gamifying campaigns – Users do not like to get advertised. Users love to get gratified and MysteryQR does exactly the same.
Campaigns going viral – Imagine if you see a billboard outside the mall that says "Scan and you can win up to a Free TESLA". We are sure that you are definitely going to scan once and will push your friends and family as well to scan it. You are definitely going to go a step forward and share the photo of the QR code in your social media platform making the campaign go viral.
Cost-Effective – Running a MysteryQR code campaign is very cost-effective as you do not have to haggle with re-printing your flyers or printed materials again and again.
Customizable – MysteryQR code campaigns are totally customizable and can be edited anytime and anywhere easily. You can play around with your inventory, messaging, promotions easily
Optimize your resources – Many brands do not like to give discounts as it cheapens the brand value but they do not mind using their inventory to reward the customers. Example – You scan a code and receive a promo that says "Free Choco Lava Cake for $1 only after 9 pm". It makes much more sense to move the perishable inventory off the shelves rather than dumping them. For customers, it would be a sweet deal 🙂