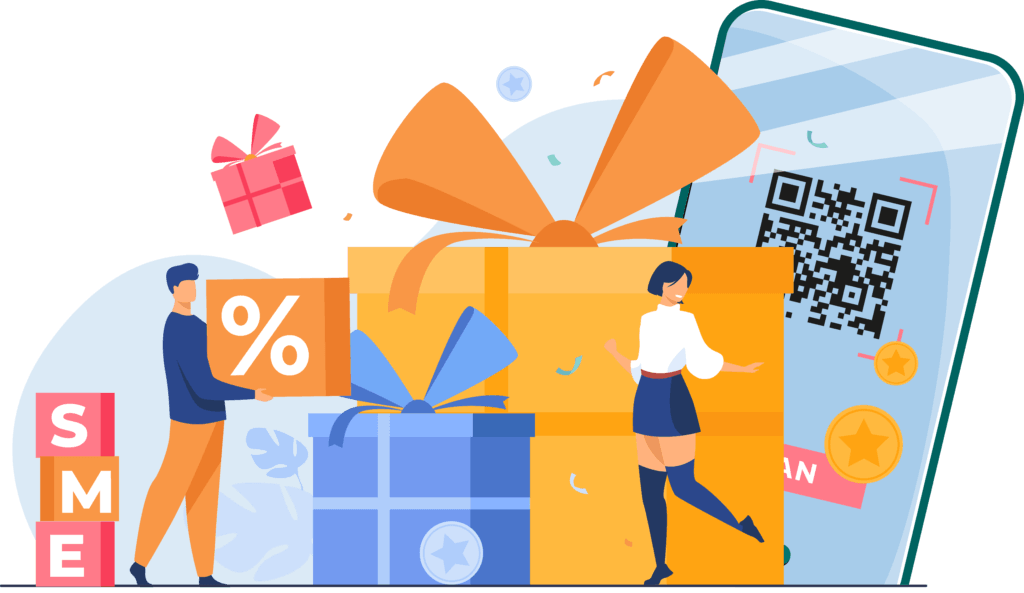 Everybody loves to get gratified
People do not like to see advertisements, they love to get gratified. As per the survey done by Global Industry Analysts in the US, 80% of customers appreciate instant gratification via mobile while shopping.
Connecting the offline-online world

Marketers, SMEs, businesses are targeting mobile users via QR codes as they are cost-effective, universally applicable. QR Codes help marketers reach their target audience in the offline world and connect them directly to their digital platforms. At any given point in time, marketers, SMEs, businesses run multiple marketing campaigns across various online, offline channels.
We have seen merchants doing promotions:
For off-peak hours
For off-peak days
For specific days
For a particular store
For social media
For early bird offers
For giveaways
For cross-selling
For upselling
The list can go on and there are many combinations that can be added further.
Marketers love MysteryQR as they can amplify all of their promotions by collating all of them into one QR code and putting them across online and offline channels. Upon scanning, the user gets gratified by a mystery promo from the pool of options that are pre-fed by the marketers or business owners.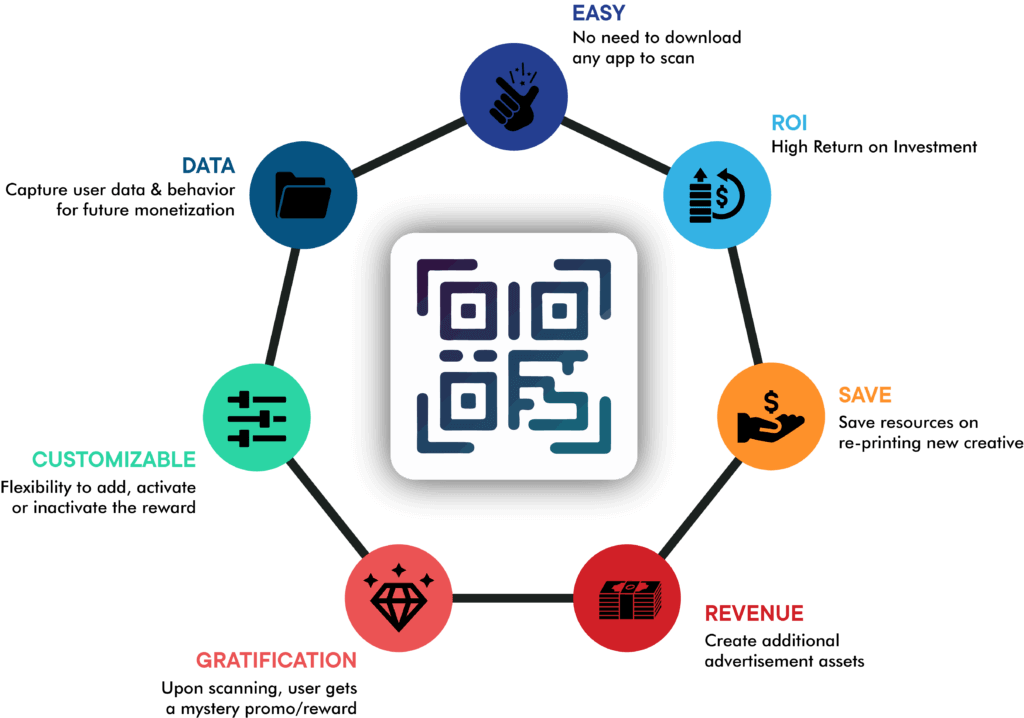 Guaranteed wins for the marketers and business owners by using MysteryQR
Gratify your customers – We all have played spin the wheel or scratch card in our lives and unanimously we all agree how appealing they are, right? We're all human; it's normal to want instant gratification. MysteryQR brings the concept of gamification to make the marketing campaigns go viral. The good part is that it doesn't require marketers to spend a lot in building heavy billboards or printing tons of scratch cards. All they need is a QR code that can be put up on the online and offline channels.
Building database – MysteryQR helps marketers and business owners to build the database at a fraction of cost. Upon scanning, the user key in their email/phone number, and the reward is sent to the user. Owning a database is super valuable. It can be used further for many different monetization purposes. It can be setting up your own not-so-complicated CRM mechanism, loyalty platform, and more.
Measure & Improving ROI – MysteryQR allows marketers to measure the performance of their campaigns by the number of users who scanned, claimed, redeemed, and redirected to their digital platform.
Totally customizable – MysteryQR allows the marketers and business owners to play around with the offers that are doing well by pushing them more and editing the offers where redemption is low. Marketers and business hours spend hours, days, and months to roll out a campaign and often they face bottleneck because of a lack of creative resources such as designers, content writers, or even getting physical printing done. With MysteryQR, marketers, and business owners do not need to haggle around with such stuff. Imagine you are a restaurant owner and you forecast a lot of perishable inventory that may not move off the shelf by end of the day as it has suddenly started raining or generally footfall is low. You can just go to the backend and throw a crazy deal such as "10 cents for a pastry after 9 pm", set the quantity, and share the MysteryQR within your network or to the people who are around. There are numerous possible curated use cases that any marketer or business owner can think of that can fit their business.
Easy to roll out – MysteryQR doesn't require users to download an additional app or any sort of integration at the business end. You can create a campaign from your mobile itself on a real-time basis.
Incremental Revenue – Marketers and business owners use MysteryQR to upsell and cross-sell. You do not need to always give a deep discount to attract a customer. No need to re-invent the wheel. Just put your promos for the inventory that you want to push out. Example – Spend $100 to avail the promo. If you are a platform that has super high traffic, then you can even push promos sponsored by other businesses. You can recall the promos that are funded by the banks, Visa, Mastercard running at big brands.
Optimize Resources – Marketers, SMEs, Business owners spend a lot of their resources in printing, re-printing exercise. Spend tons of money on Facebook ads that by the way, don't give single-user data. There is no unfair advantage that marketers or SMEs or offline business get as they are doing the same campaigns which their competitor is doing. Digital Marketing is always evolving, and even the most trusted digital marketing resources can go out of date almost overnight. Small businesses looking to grow in the digital world know that internet marketing is a must. The shift toward digital marketing has become almost mandatory, impacting small businesses big time. The cost of creating sustainable digital marketing strategies can be immense. MysteryQR is emerging as a prominent tool for small businesses to bridge the gap between the online-offline world in a quick and simple manner. 
Read more: What is MysteryQR?