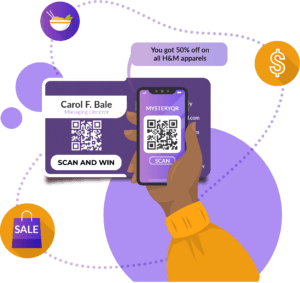 We have already covered why marketers use MysteryQR, how it links online and offline world, and it's overall use cases. Let us go through in detail the use case of MysteryQR on the business cards. 
A small enterprise operates in a highly competitive landscape with very lean resources. They do not get multiple shots to grab the attention of customers. Businesses are always on a lookout to make a customer feel special by offering discounts, promos, coupons, deals, giveaways.
Business cards are often the first piece of marketing you get printed when you start or join a new business. Despite its relatively small size, a MysteryQR code on the business card can elevate the marketing strategy of your small business. MysteryQR on the business card sets yourself apart from other business owners and professionals. 
Here are some of the benefits:
Tool to engage with the users – While you introduce your business for the first time to a potential customer, MysteryQR on the business card can convert the potential customer from the awareness stage straight away to a customer who may transact instantly. 
Instant Gratification – People do not like ads, they love to get gratified. You can instantly gratify the person by offering them a promo or coupon in a gamified manner with just one scan. "I don't like mystery rewards," said no one ever. 
Data – With the business owners who are serving B2C, often a business owner offers the business card, but they do not get the business card in return or if they get the business card, then do not immediately manage to enter the details in their database. Upon scanning, the user gets a mystery promo and the merchant gets the user data.
Make your business card go viral – You can straight away gauge the excitement from the person who scans your MysteryQR. Line up some good offers for your new users and put a seed in the mind of the user that they can share the MysteryQR code with their friends and family by taking a photo and forwarding it.  
Get your new user to a loyal customer – You can get your user engaged with your brand for the longer period. All you have to do is tell the user that they can scan the QR code once every hour, 3 hours, 6 hours, or daily. You can customize it at the back end. Would it not be beautiful if the new person whom you met for the first time, starts scanning your MysteryQR code frequently in order to get gratified. Chances of converting them to a loyal user goes higher with the MysteryQR.
4 Easy Steps to Receive a MysteryQR