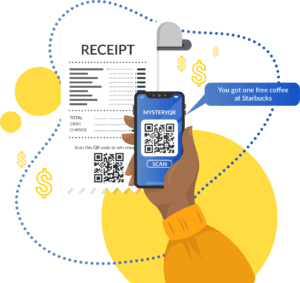 QR codes have become an indispensable part of our new contactless world and businesses are embracing them. They aren't necessarily new, you can see QR codes everywhere lately. To list a few, you can find them influencers using it, during live streams, in the magazines, on business cards, storefront windows, billboards, delivery boxes, and even on the thermal paper receipts. Everyone with a smartphone can scan it immediately.
To engage potential and existing customers, QR codes are a great way. Businesses are using it very effectively by printing QR codes directly onto their receipt. It offers a strong call to action. Many POS terminals, POS printers, cash registers, and credit card terminals are compatible to place graphics on every receipt.
Printing MysteryQR code on the receipts is a great way to reward current customers and it encourages repeat business. 
Your past customers are a huge asset to your business, especially in times like this when leads may be hard to come by. It's more important than ever to maintain a strong relationship with your past and existing clients so they stay loyal to your business.
Acquiring a new customer can cost

five times

more than retaining an existing customer.

Increasing

customer retention by 5% can increase profits from 25-95%.

The success rate of selling to a customer you already have is

60-70

%

, while the success rate of selling to a new customer is 5-20%.
When printed on a receipt, MysteryQR can have you achieve the following objectives:-
Engage with the customers – Customers are the lifeblood of your business. Most brands tend to pay more attention to lead generation and customer acquisition. They forget that until these ideal customers are motivated, and upgraded in their state of mind, they'll likely switch to competitors – it's only a matter of time. The way you treat your customers matters. MysteryQR is a low cost tool that makes it possible for you to engage with your customers, every time they purchase from you. Pointing the customer while handing over the receipt that is a mystery reward for them that they can claim just with a one scan is a low hanging opportunity to grab the attention of the customer post sales.
Instant Gratification – Users do not like ads, they love to get gratified. As per the survey, 80% of the customers appreciate instant gratification via mobile offers while shopping. MysteryQR is the smart way to gratify the customer post sales. Businesses issue stamp cards or loyalty cards which face the challenge of low claim and redemption rate. Upon scanning the MysteryQR on the receipt, the reward is straight away sent to the customer's email id. It doesn't get lost the way usual stamp cards or loyalty cards get lost as another piece of paper.
Link offline to online – Merchants do multiple promotions at any point in time. It's easy to manage the promotions in the online space. MysteryQR is the perfect tool to drive your customers to any one of the promotions that can be issued in a gamified manner.
Build database – Success rate to manually request for customer's contact detail is low. Upon scanning the MysteryQR, the customer gets a mystery promo and the merchant gets the user data. All that data can be part of your CRM funnel or database instantly.
Drive new leads – Scanning a MysteryQR code takes a fraction of seconds. It does not require any app to download. Usual behaviour of the gamification aspect is that users want to try it then and there. Your staff can instantly gauge the reaction, hopefully good if the reward is exciting enough, of the customer. Staff can offer other people who come with the main person who is paying for the bill to scan the MysteryQR code as well to gratify them. With one receipt, you can build the database of everyone who comes to your store and not only of the person who pay the bill.
Increase order value – Usually a business owner would know the average order value. Rather than giving a flat discount percentage off or dollar off, set the offers such as "Get X% or X dollar off with the minimum spend condition". With those type of structures, you can bring up the average order value.
Repeat Transaction – Drive customers to make the next transaction soon by using MysteryQR code. Rather than giving percentage off or dollar off, merchants can do the structures like "Get X dollars off if you transact again within a set period of time" or you can also moving your stock that is perishable or aging by doing structures such as "Get pastry for 10 cents after 9:30 PM – For First 10 people only"
There are two methods to print QR code on thermal paper receipts.
On front Thermal Side of Paper
In this way, you can print QR code on each receipt. If you are a retailer or anyone has a POS to print receipts, you can add your QR code on your default printer format. So each time you print a customer receipt, based on the sales information, it will have a QR code.
On Back Side of Paper with Full-Color Print
You can also choose to print QR codes on the back side of paper. Normally QR code is in black color. You can make it colorful.  Thermal paper factories can easily print on the receipt.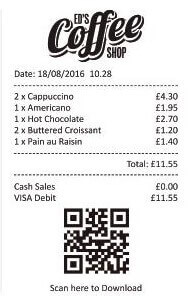 4 Easy Steps to Receive a MysteryQR