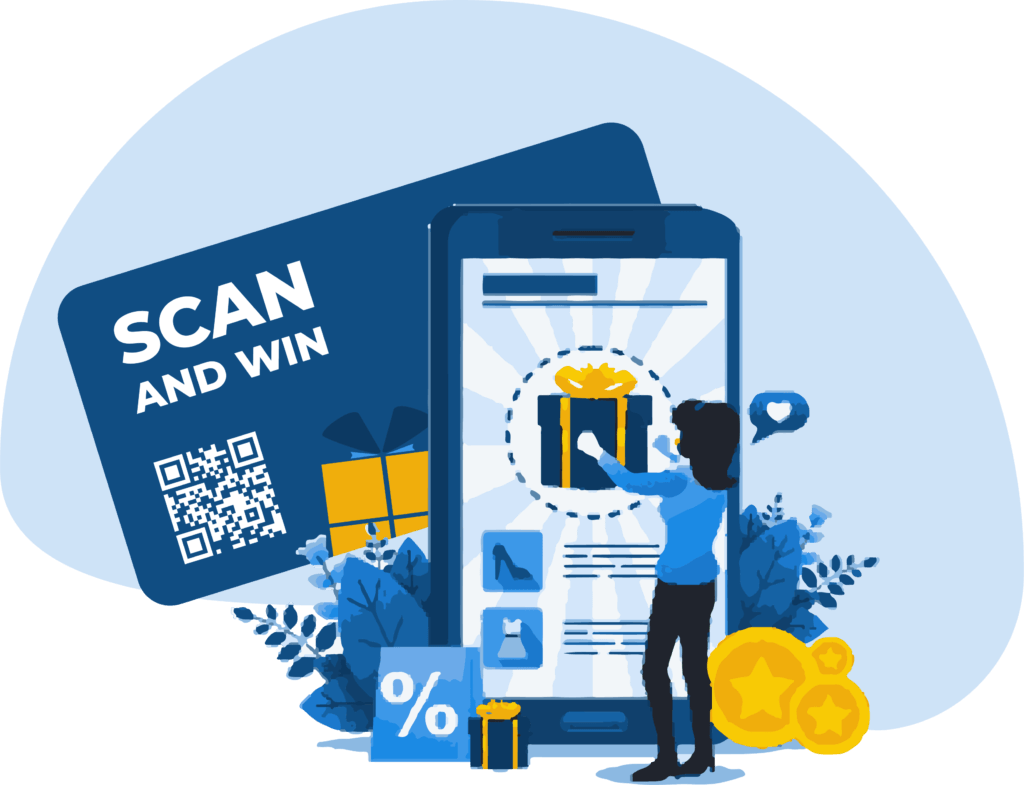 Loyalty programs gratify only those who are a member, card holder or the person who is paying the bill while MysteryQR gratifies all your customers.
For decades, businesses of all sizes have been using loyalty programs to gratify the customers by rewarding them. This is all done to keep them coming back.
Nowadays, businesses of all sizes and in just about every industry are using customer reward programs to improve customer loyalty and to make more sales. From Best Buy to Amazon to the confectionary shop down the street, companies are finding success with these rewards programs.
In fact, companies now spend over $2 billion each year on loyalty programs. Furthermore, the average consumer is a member of about 18 different customer rewards programs.
Ever gotten a punch card at a sandwich shop? For every certain number of sandwiches you buy, the shop gives you a free sandwich. Sounds simple but there is a decent cost attached to it.
Having a loyalty program by a SME owner is not a cup of tea. There are certain challenges for them such as:-
Crowded Space – The entire loyalty and rewards program space is getting competitive. Everybody is trying to woo their audience by giving extra rewards, upsize cash back, or bonus points on top of the usual rewards.
Cost – From coming up with the right structure that can give you an edge over the competition, to printing, to building an entire rewards mechanism, loyalty platforms and reward programs can be very expensive and out of reach for SMEs. Also all the points issued sit as a liability in the balance sheet.
Customization – Most of the loyalty programs end up catering to around 4-5 consumer profiles – Basic, Bronze, Gold, Platinum. Customizing it mid-way is not an easy task. Businesses need to pen down a complete operating model before they start building loyalty programs.
Urgency – Redemption rate of loyalty points usually stays low which also shows that it doesn't bring in immediate rush factor among the audience.
SMEs look for solutions that are simple to understand by their staff, affordable for them, and technology wise it should not be complicated that leads them to educate their staff and consumers.
While trends in brand loyalty and customer retention are constantly evolving and advancing, all these advancements may not be cost friendly to install and execute.
That's precisely what MysteryQR offers with its gamified concept to enhance the customer experience for SMEs. In order to gratify the customers, SMEs can use MysteryQR that gratifies the customer upon scanning. One of the big wins that is achieved by using MysteryQR is that SMEs or marketers can gratify everyone who comes and not only to the person who is paying the bill or owns a loyalty card.
For SMEs, MysteryQR works perfectly because of the following reasons:-
Low Cost – While rewards are a cost, setting up the entire loyalty program itself is a cost. MysteryQR provides the most affordable solution to the merchants to gratify their customers. It cost a fraction of what usual loyalty programs cost and issuing the rewards in a gamification manner further brings down the rewards cost. Upon scanning, you get a mystery promo and not a set template such as a flat discount offer. It is like how a scratch card or spin the wheel gratifies the user.
Gamification – According to Snipp, brands that incorporate gamification into their customer engagement strategies see a 47% rise in engagement, a 22% rise in brand loyalty, and a 15% rise in brand awareness. The same study also found that more than two-thirds of the world's top 2,000 companies have already embraced gamification. MysteryQR helps merchants to incorporate gamification aspects while issuing rewards. It doesn't require any tech integration or require users to download any app or store the rewards. All they need is a smartphone which everybody has these days. That's it!
Instant Gratification – 80% of the consumers prefer instant gratification via mobile offers while shopping. Concept of earning points, accumulating it, and redeeming it at some point in future works for industries like Airlines as users understand that they will have to perform some more actions before winning something substantial. From SMEs, users expect it to be a simple process and it is joyous to receive instant reward. It can be something that can be redeemed in the next visit or merchants can keep it in a manner where customers get more benefit if they spend more or within a particular time period.
Target mass market – With MysteryQR, merchants can reward everyone and not limited only to the person who is paying the bill or having a loyalty app. Attracting the entire community or group of people is more beneficial for the SMEs rather than rewarding one person. People love to get gratified. They do not like to see ads. Gratifying someone with MysteryQR also drives the consumers to call upon their friends and family to try it out.
Optimizing your resources – SMEs face an issue of non-moving inventory that is holding the shelf space or it could be perishable inventory. MysteryQR allows the merchant to use that inventory by giving them as a reward to their loyal or high spending customers. Rewards can be like "Spend X amount in the last 1 hour and win something special" or "First 10 customers after 9 PM get to win a mystery reward"